UPCOMING LITTERS

UPCOMING LITTERS 2017
we should have something for everyone
Copyright © Cudd

lebug yorkies -2017. All Rights Reserved. Website Design by Cuddlebug Yorkies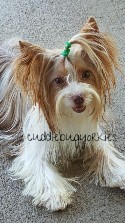 Tillie and Casper will breed in March 2018. Casper should produce another beautiful black puppy since he does carry the KB gene.











Kizzie and Rocky should breed in December 2017. Kizzie is chocolate parti and carries the blonde gene. Rocky is a traditional that carries parti, chocolate and blonde. puppies will be any combination of these colors. Kizzie has the beautiful straight and silky hair. This pairing will be exciting.

Mia and Casper will be breed nov. 2017. We should have parti colored pups and hopefully One black Yorkie since Casper carries the rare KB gene that produces black yorkies which is dominant. I can't wait.